How to Book a Halong Bay Cruise Online?
If you are planning to visit Halong Bay. How to Book a Halong Bay Cruise Online? HalongBayCurise.vn – one of the reliable travel agents of cruises in Halong Bay and many cruises and tours in Halong Bay are awaiting to take you around this World Heritage Site
MORE DETAILS...
(https://www.legend.travel)

How to Book a Halong Bay Cruise Online?
We provides general information for Halong Bay including Halong bay travel advise, Halong Bay tours and junk boat cruises which range from day trip to 2days or 3days overnight in the bay. All the tour and cruise is included transfer and daily departure from Hanoi Vietnam. When you use HalongBayCruise.vn to book your trip, you can rest assured that you will find what your vacation heart desires. You'll find cheap rates for Halong bay cruises. Find and book your vacation at an cruise with HalongBayCruises today!
Alisa Cruise Halong Bay
CRUISE DAY TRIPS
Join Cruise for a Halong Bay private cruise, a one day Cruise of the best of this UNESCO World Heritage. Relax and take in the scenery from the cruise. You'll be served a fresh lunch on board, and have a chance to swim in the waters of the bay.
HALONG BAY CRUISE 2DAYS/1NIGHT
Treat yourself to an overnight Halong Bay cruise, offering the time to enjoy the bay's magnificent scenery of countless rugged limestone islands. As you cruise through the bay, enjoy traditional Vietnamese and fusion cuisine served on the Halong Bay Cruises. Pause for a swim in the azure waters and lay back on one of the secluded beaches scattered throughout the bay. Make the most of your boat's sundeck and take in the sunset, or join a Tai Chi session held at first light. The 2day 1night cruise gives you the chance to explore more of the bay, while leaving you plenty of time to see the rest of Vietnam's attractions.
Pelican Cruise Halong Bay
HALONG BAY CRUISE 3DAYS/2NIGHTS
If you are looking for more from your Halong Bay experience, consider a 3day 2night cruise. Dedicated three days to Halong considerably expands what you can do while in the bay. You'll be able to explore the entire area, cruising through corners of the bay far from the busier routes plied by those on day trips. Meet residents of a remote fishing village and learn about how they live. Kayak into hidden lagoons and take your time paddling around mysterious islands, of which there is always one more. Relaxing on your boat amidst these ethereal surroundings, you will hardly notice another day slip by, and disembarkation comes all too soon. Immerse yourself in all that Halong Bay has to offer, with a Halong Bay two night cruise.
CHARTER CRUISES
Are you looking for a one-of-a-kind location and a capable destination manager to set up an important group event or MICE package? As the largest cruise operator in Halong Bay, Vietnam's premier natural attraction, Halong Bay Cruises is well positioned to meet your needs! Our Meetings, Incentives, Conferences & Events staff has considerable experience creating individualised cruise itineraries focused around the specific goals of our clients' events.
We try hard to stand out from the other cruises by offering a perfect service. Everything from the natural beauty of the seascape in the Bay to the smallest attention to details is carefully planned to turn your Halong Bay Cruise into the ultimate experience of Halong Bay. Our mission is to make your Halong Bay trip unforgettable.
Step 1: Book now
Visit website halong bay cruise:
www.halongbaycruise.vn
Click the Button: Book Now
Enter your departure date on Calendar Table & Fill in the numbers of adults, children and infants of your group. Continue => Next….
Step 2: Choose the Cabin Categories
Please select your Cabin(s) & Cabin Categories which you would like to book. The price of each cabin is the total price. For example: If you choose Double/Twin Cabin. The net price is for two persons.
Step 3: Submit Booking
You`ll fill out all personal information into the Form. (Full name, Gender, Address, Phone number, Nationality…). Continue => CHECKOUT
Step 4: Deposit Process
Now you will turn into Onepay Payment Gate*. You will fill out the Forms with your Card (Debit, Credit) information to process then deposit (99 US$).
We accept: Visa, MasterCard, American Express, JCB
*More information about Onepay Gate. Please click here: Deposit & Payment
Step 5: Booking Confirmation
When you make a successful deposit you will receive Auto Booking Confirmation to your selected email address. Your cabin is now reserved!
Visit the official site of Halong Bay Cruises
Why book with us?
Best price guaranteed
$99 deposit, pay the rest on location
No hidden cost
Free Round trip transfer from Hanoi
Free Kayaking
All entrance fees included
Customer Care 24/7
HOTEL OFFERS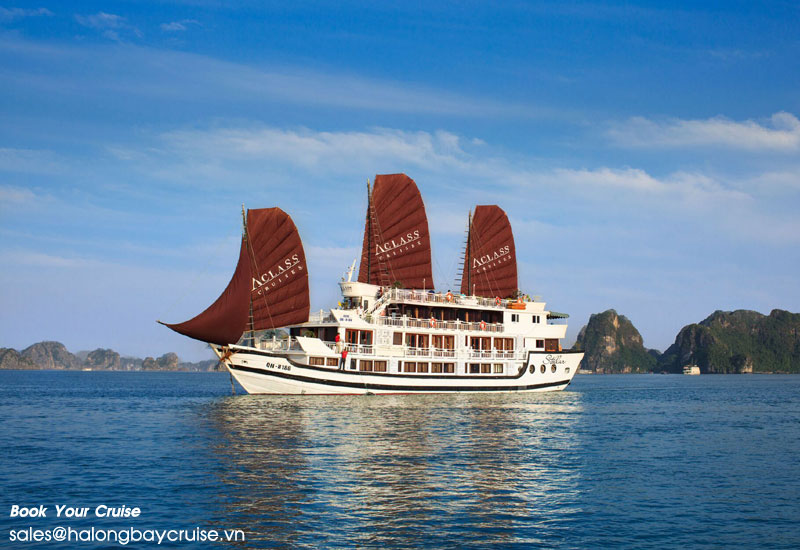 You have decided to plan a Ha Long bay trip? Halong Bay Cruises is the right choice. Book a Halong bay tours online with local experts at the lowest prices with handpicked reliable suppliers - best price, flexible cancellation and local expertise.
Vietnam Hotels: Hotel84.com offers the choice of over 2500 hotels in Vietnam. Our hotel reviews will help you find the best deal, while you are in Vietnam. Find hotels and book great Vietnam hotel at great prices.