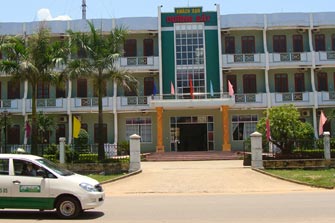 Quang Binh Railway Hotel, located on the banks of the famous Nhat Le beach dreaming of Quang Binh province, Hotels campus airy, spacious parking. The hotel consists of 43 rooms designed amenities: air conditioning, television receivers satellite television, refrigerator, wifi.vv Skilled chefs serve specialty dishes, Asian and European cuisine to suit each region. Reasonable price, beautiful young staff, dedicated service and thoughtful. The hotel will be the ideal choice for customers traveling to Central, on the World Natural Heritage Phong Nha - Ke Bang and other places in the province of Quang Binh.
Rooms

Rates

Hotel Features

Services

Location

Reviews
Rooms
Railway Hotel in Quang Binh offers 43 guest rooms , facilities and activities in accordance with your requirements .
With architecture designed to create harmony in the comfort of your own relaxing space tourists . Own point of service business of hotel accommodation is suitable for tourists who want to travel at a reasonable cost .
With a fresh perspective from hotel balcony corridor , visitors can observe the beauty of the sea of ​​Japan 's rate of natural forest with Ho Bau Tro .
We offer a variety of room types to meet the needs of tourists , the price adjustment policy flexibility for tours , travel with style dedicated service and thoughtful .
Quang Binh Hotels Railway would introduce and invite you to visit the hotel rooms :
single
Single room design and layout harmonious space to give guests a relaxing and comfortable . Single rooms are suitable for couples to honeymoon admiring or VIP room .
2 bed room
Rooms have harmonious design , elegant layout warm space gives guests a relaxing and comfortable . 2 bed room layout 1,2 m x 2m for 2 people , very consistent with the agency organizing travel for staff or groups of friends .
4 bed room
Rooms are designed in accordance with family vacation in Quang Binh
Rooms 04 beds : 04 beds Includes 1.2 m x 2m . To meet the requirements for travelers and groups wishing to share a room , especially for the family to visit and work in Quang Binh . Rooms have fresh perspectives , can accommodate 4 guests with the most comfortable .
5 bed room
Room 5 is a different choice in the service of your accommodation . Rooms are designed exclusively for the large group traveling , universities or vocational schools as institutions for students to practice.
Hotel similar
Vietnam Hotels: Hotel84.com offers the choice of over 2500 hotels in Vietnam. Our hotel reviews will help you find the best deal, while you are in Vietnam. Find hotels and book great Vietnam hotel at great prices.