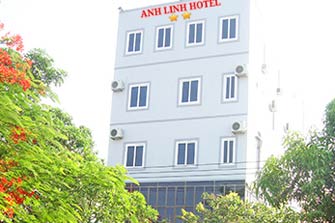 Anh Linh Hotel warmly welcomes and wishes you happiness and peace.
Dear customers! Anh Linh Hotel was born in 1999 with extensive experience in the hospitality industry; particularly our employer is a teacher, also a professional Marketing trainer with the perspective of "All for customers, creating mutual benefits". We are proud that Anh Linh Hotel will please your demand.
Centrally located in Dong Hoi City near Citadel Square, Post Office is very convenient for your transportation. The distance between Anh Linh Hotel and Nhat Le bridge (also the pristine and poetic Bao Ninh beach) , 1A high way, Dong Hoi train station, and Dong Hoi airport is 120m, 50m, 3km, and 6km respectively.
During our business, we always care for continuously investing, upgrading and innovating our services. Now we proudly have 29 2–star standardized rooms; a 6th floor hall whose capacity is over 100 seats; a conveniently large elevator; well serviced internal restaurant and bar; free wifi and cable TV; a free internet room; motorbike and 4-30 seat self-driving car hiring services…
We also provide other services such as booking tickets for train, airway and high quality cars; and combining tours if required.
Rooms

Rates

Hotel Features

Services

Location

Reviews
Rooms
Quang Binh's Anh Linh Hotel has 29 rooms, fully equipped with elegant and various facilities and 2 star standardized professional services.
We also have a conveniently large elevator as well as air conditioners, heaters, cable TV and free wifi…
Hotel similar
Vietnam Hotels: Hotel84.com offers the choice of over 2500 hotels in Vietnam. Our hotel reviews will help you find the best deal, while you are in Vietnam. Find hotels and book great Vietnam hotel at great prices.