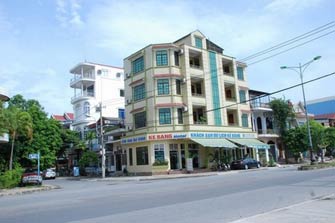 Address:
28 Ho Xuan Huong, Phuong Dong My, Dong Hoi City, Quang Binh Province
Phone:
+(84-52) 3841063
Email:
kebang28@gmail.com
Web:
hotels84.com/quangbinhhotels/ke-bang-tourist-hotel.html
Number room:
Ke Bang tourist hotel is situated in an ideal location in the center of Dong Hoi city , in front of the hotel 's legendary butter Nhat Le river cradle out of turn - one of the areas most famous and beautiful locations the best , the most perfect ... Ke Bang tourist hotels create the environment where you can easily reach many tourist destinations quickly and conveniently , with the most reasonable price .
Many thanks for your choices and hope that with the above standard services , modern infrastructure , staff professional , elegant and enthusiastic . Ke Bang Tourist Hotel always hopes to contribute to the success of a business trip and your visit while in Quang Binh .
Look forward to comments heartfelt words from you to complete hotel than a day .
Rooms

Rates

Hotel Features

Services

Location

Reviews
Rooms
The Double Eagle Hotel Tourism, 1 star standard, with a variety of rooms, with modern advanced facilities, meet with a large number of visitors in groups or families
Hotel similar
Vietnam Hotels: Hotel84.com offers the choice of over 2500 hotels in Vietnam. Our hotel reviews will help you find the best deal, while you are in Vietnam. Find hotels and book great Vietnam hotel at great prices.