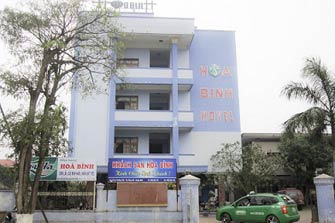 Located in the urban center of Dong Hoi city , town Roses , Peace Hotel is the most convenient place for tourists choose to do the four stops on the way and the North-South and especially where center heritage trail and Vietnam is the place to start from the North central heritage road .
Peace Hotel is a member of the production system , business services JSC Consulting and Construction Binh Loi is on the development and international economic integration , with a history of nearly 40 years. Therefore , Hoa Binh Hotel is a place of friendly businesses , entrepreneurs and company partners in cooperation , joint ventures and associates.
As the center of the city, KS Peace help you facilitate the transaction , go back and enjoy the travel services and resort . With a business message in "Never say no to customers " , each staff always KS Peace for customers to benefit from the best of our services . KS Peace can not monumental , beautiful but polite , but not topping was very friendly , but the visitors but when you come to the hotel you will get yourself feel at home . Solution is so simple , but it 's great for the whole family who travel together .
On the occasion of the opening KS Peace Web site : http://www.hoabinhhotel.net I ask on behalf of the staff , hotel staff , please send you greetings new year Spring wellbeing , prosperity and please be sure to invite you to the Peace Hotel just once and then remembered
Rooms

Rates

Hotel Features

Services

Location

Reviews
Rooms
The hotel has 30 bedrooms scale, including many different types of rooms, designed to guide visitors and therefore has created a harmonious space, with full equipment, modern facilities standards.
Hotel similar
Vietnam Hotels: Hotel84.com offers the choice of over 2500 hotels in Vietnam. Our hotel reviews will help you find the best deal, while you are in Vietnam. Find hotels and book great Vietnam hotel at great prices.