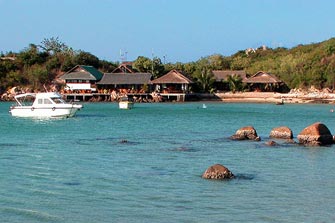 Van Phong Bay appeals make for a long time of this archipelago a coveted site. The marine officer Dayot wanted to make a marine harbor at the end of ninetieenth century and gave his name to the archipelago on French maps.
Before he was the famous Commandant, Jacques Yves Cousteau stayed in "Port Dayot" as a marine cartographer. He told he got underwater diving virus by following local fishermen during thirties.
We started by camping there after hard trekking in Highlands.
We have built our resort in 1997.
Today, our 30 Vietnamese and French staff thinks only about your enjoying.
Address: 2 Me Linh Nha Trang, Khanh Hoa Province
Web:
hotels84.com/nhatrang-resorts/whale-island-resort.html
Rooms

Rates

Hotel Features

Services

Location

Reviews
Rooms
The 23 traditional bungalows are constructed in bamboo with sea sightseeing.
Simple or double beds with mosquito net, every on pillar "paillote" is equipped with a fan, with a shower room with sink and toilet.
5 economic rooms are also available for groups with special price
Resorts similar
Vietnam Hotels: Hotel84.com offers the choice of over 2500 hotels in Vietnam. Our hotel reviews will help you find the best deal, while you are in Vietnam. Find hotels and book great Vietnam hotel at great prices.