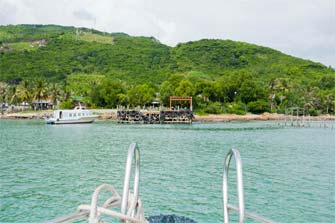 Discover the ultimate luxury resort at
An Lam Ninh Van Bay villas
. Situated in the picturesque Ninh Van Bay, An Lam Villas will indulge you with exquisite food, flawless service and its stunning white sand beach.
Soak up the surrounding environment of tropical forests and mountains studded with massive granite boulders looking out over the ocean. Slip away with a gourmet hamper or indulge with a therapeutic spa treatment - it s all about peace, privacy, and the ultimate holiday in authentic Vietnamese style luxury.
Our Beach and Lagoon Front Villas are set in exclusive, private locations with stunning views over the lagoon and Ninh Van Bay. An open plan layout is designed to take full advantage of the spectacular views and create an inviting indoor/outdoor ambience.
Set into the rainforest our elevated and private Hill Rock Villas offer treefiltered ocean views. The three storey layout provides a spacious sleeping area with king size bed set in the tree canopy; a large entertaining deck and living area where you can enjoy a private dinner cooked by your personal chef; and a substantial bathroom on the lower level.
While you feel a million miles away from reality, we do not want you to compromise on comfort. Each villa has a personalised butler service to attend to your every whim, while rooms are fitted out with every modern convenience including ipod docking stations, wireless internet and high definition televisions. For those who want to forget about technology you can wile away the hours in your hammock or sun lounge and discover how quickly you can adapt to the life of a true epicure.
An Lam Villas Ninh Van Bay
Address: Tan Thanh Hamlet, Ninh ich Commune, Ninh Hoa, Nha Trang
Email: rsvn.nvb@anlam.com
Web:
hotels84.com/nhatrang-resorts/an-lam-villas-ninh-van-bay.html
Rooms

Rates

Hotel Features

Services

Location

Reviews
Rooms
LAGOON VILLAS
The 10 Lagoon Villas are single storey with uninterrupted views of the lagoon, beach and sea. These villas have two layouts, however they are very similar in feel and internal villa space. There is no difference in rate for the villas.
Upon entering the living room, you are presented with an impressive bar with wine fridge, mini bar, espresso machine and tea sets. The lounge area opens up onto the lagoon deck and pool, complete with sun lounges, dining table and an outdoor sitting area.
The oversized bathroom has both an indoor and outdoor setting. The main bathroom contains twin basins, toilet, shower and a swing chair for a unique way of relaxing and a double wardrobe. The outdoor bathroom has a bathtub set in a garden and a rainwater head shower.
The air-conditioned bedroom overlooks the pool and lagoon, and is equipped with an entertainment system to provide guests with hours of music and movies.
Size: 171.90 square metres, 1 bedroom Executive Villa
Size: 125.15 square mertes, 1 bedroom L Shape Villa
HILL ROCK VILLA
9 Hill Rock Villa set over 3 levels. The lower floor contains a large bathroom with shower, separate bathtub, toilet, twin basins and wardrobes. The middle level is an open-air deck lounge space, with bar, sofas, dining space and plunge pool. The air-conditioned upper level is the bedroom with full or filtered ocean views, mosquito net, entertainment system, television, en-suite toilet and balcony overlooking the forest.
Size: 86.66 square metres
Bedroom: 1-bedroom Lagoon Villa
AN LAM BEACH VILLAS
The An Lam Beach Villas are all with direct beach access from the villa deck and plunge pool. The resort has a total of 8 Beach Villas, which were completed in late 2011.
Each villa has a spacious lounge room with a large day bed, en-suite bathroom, lounge area and bar. For family groups (with children over 12 years of age) or friends travelling together, the day bed can be converted into a king sized or twin bed configuration, and recessed doors close to create a second bedroom with en-suite bathroom.
The master bedroom, located between the lounge and main bathroom, has glass doors opening onto the deck and pool, and offers great sea views right from bed if you choose not to close your curtains.
The villa contains an oversized bathroom with twin basins, shower, toilet, double cupboards, and opens both onto the sea facing deck, and onto the garden where the rock bathtub and outdoor rain shower are located.
Size: 185.43 square metres
Bedroom: 2-bedroom Executive Beach Villa
AN LAM LAGOON VILLAS
The An Lam Lagoon Villas are identical semi attached villas with a central living area between them. Each villa has a large bedroom with an entertainment system, oversized bathroom, outdoor bathtub, garden shower, and a double day bed overlooking the lagoon.
The central area, which contains a sunken dining table and bar, flows down to a lounge setting including deck and the villa pool with lagoon and sea views. Sun lounges and an outdoor dining area are situated in the garden on the edge of the lagoon.
Each An Lam Lagoon Villa can be configured as 2 king beds, or one king and 2 singles for families with children over 12 years of age.
There are three An Lam Lagoon Villas available in the resort.
Size: 236.96 square metres
Bedroom: 2-bedroom Lagoon Villa
Resorts similar
Vietnam Hotels: Hotel84.com offers the choice of over 2500 hotels in Vietnam. Our hotel reviews will help you find the best deal, while you are in Vietnam. Find hotels and book great Vietnam hotel at great prices.