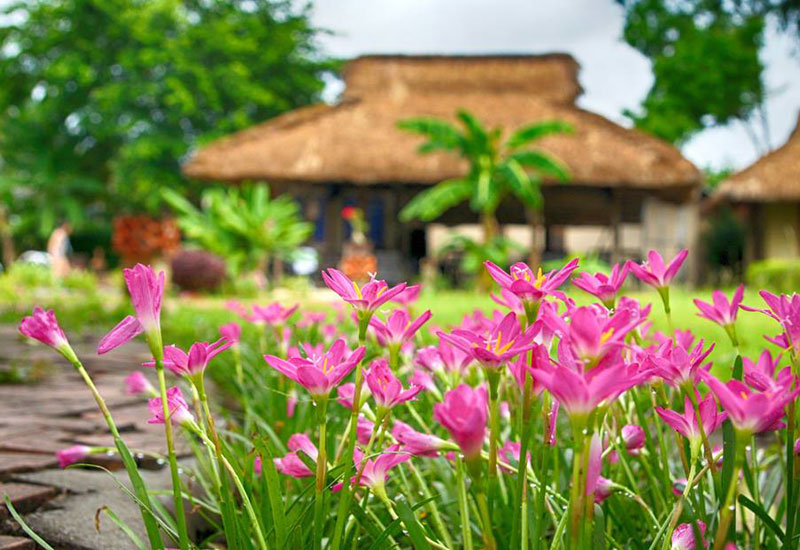 Located in the South-Eastern province, Khanh Hoa, of Central Vietnam, the Memento Country Home is based o­n our ancestor's heritage which has been in existence in our family for more than 70 years. Thatched cottages and bamboo construction have been built to provide our guests a relaxing setting of a green peaceful country home.
At Memento Country Home, our guests will experience the peaceful country living: birds singing while sipping fresh ground morning coffee, gentle countryside breezes, winding walkways around extensive green grass cover, and nice dreams in thatched cottages; enjoy relaxing while fishing, visiting the outdoor spa, swimming , sunbathing, or cooling off in an outdoor shower; discover fine Vietnamese cuisines with diverse regional specialties in interesting settings: outdoor BBQ, dinning tables under shades of trees, a romantic candle light dinner in gentle melodies under the stars, listening to frogs croaking in the evening, or having fun at our open-air, thatched-roof bar: drinking, playing pool, enjoying the fresh air or discovering the local snack street vendors.
Our guests can visit the country side, mountains and near by Nha Trang City; enjoy a self or guided tour through villages and paddy fields while observing the local communities filled with history and culture; discover the high land of Khanh Vinh Province where you will be impressed with the wild and grandiose mountains; enjoy a taste of paradise while freely swimming at the Yangbay Waterfall; then continue down to visit beautiful Nha Trang City, walking along miles of beautiful white sand beach, swimming in the gentle warm ocean with views of dreamy islands.
The peaceful and private setting of Memento is suitable for the perfect romantic honeymoon or anyone who desires some peaceful relaxation. Our unique spa will make your vacation ... perfect!
Address: 15 Le Chan St., Nha Trang city, Khanh Hoa province
Phone:

+(84-58) 3768183 - 3765015

; Hotline: Ms Tho
+(84) 0909099104
Email: memento.countryhome@gmail.com
Web: hotels84.com/nhatrang-resorts/memento-resort.html
Rooms

Rates

Location

Reviews
Rooms
Thatched cottage

Oldie house
Resorts similar
Vietnam Hotels: Hotel84.com offers the choice of over 2500 hotels in Vietnam. Our hotel reviews will help you find the best deal, while you are in Vietnam. Find hotels and book great Vietnam hotel at great prices.