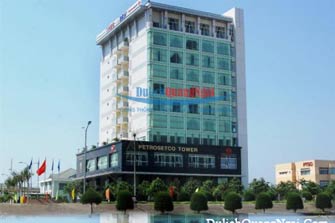 - Petrosetco Tower Hotel is a four-star hotel with 86 standard rooms meeting international standards / Standard Four star Hotel with 86 luxurious rooms.
- Restaurant seating capacity of 300 / Restaurant with a seating capacity of 300. Separate dining room seating capacity of 15-40 / Private dinning room with a capacity of 15-40 seats.
- Hall has a capacity of 400 seats with fully equipped modern / Conference hall for 400 seats with modem facilities.
- Office for lease total area of ​​1500 m2 with full amenities such as telephone, internet... / Office for lease with a total of 1500m2 are equipped with telephone line, internet ...
- Massage / Massage service.
Rooms

Rates

Hotel Features

Services

Location

Reviews
Hotel similar
Vietnam Hotels: Hotel84.com offers the choice of over 2500 hotels in Vietnam. Our hotel reviews will help you find the best deal, while you are in Vietnam. Find hotels and book great Vietnam hotel at great prices.