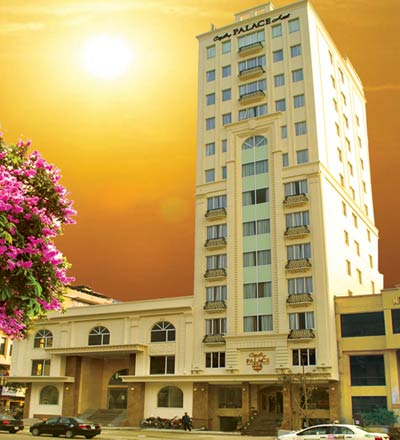 Tia sang cooperation has opened newly city bay palace hotel with 3 star international standards. Located in the centre of Ha Long city, City Bay Palace Hotel was designed as European architecture. From the rooms you can have fantastic of dreamy Ha Long Bay view. The hotel is just 5 minutes walk to beautiful Ha Long Bay coast, 5 minutes from the cruise terminal to visit Ha Long Bay – one of seven wonder natures. The hotel is conveniently located next to shopping center, restaurants, Ha Long I market and a chain of a large banks.
Hotel campus area : 700m2
The hotel has 14 floor
The number of rooms: 60
Basement consists of office and parking lot.
1st floor : reception desk
2nd floor : restaurant for 150 max.
13rd floor : meeting room with U style, theatre style…
14th floor: Gym area.
Rooms

Rates

Hotel Features

Services

Location

Reviews
Hotel similar
Vietnam Hotels: Hotel84.com offers the choice of over 2500 hotels in Vietnam. Our hotel reviews will help you find the best deal, while you are in Vietnam. Find hotels and book great Vietnam hotel at great prices.