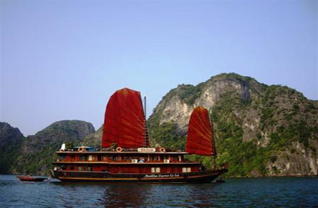 Bai Tho Junk consist of 13 junk boats offering daily and overnight on boat cruise to visit Halong bay. We are not only sell daily joining group seats for tourists but also for lease private Junks. if you and your group would like to have private junks, please choose one of our junks and tell us your itineary , we will make up good price for you with hight quality of our services.
Giá tour Hạ Long thấp nhất 2 days / 1 night
Giá tour Hạ Long thấp nhất 3 days / 2 nights
About Bai Tho Junks
(the boat information)
Factsheets

Itinerary 2 days

Itinerary 3 days

Reviews
Factsheets
Bai Tho Junk is a traditional junk, small enough to be intimate but large enough to be comfortable, is the perfect way to explore the bay. The Bai Tho boat has 4 cabins, 7 cabins, 8 cabins, 10 cabins, 12 cabins, 15 cabins and especially 18 cabins, all -conditioned en-suite cabins and a glorious picture-window salon with sofas and easy chairs, this vessel elegantly explores the islands and bays. The Vietnamese food on board is exceptional, served by friendly local staff. The standard designed and deluxe main hall on the cruise is the place where you can watch the views and listen to the whisper of the sea.

There is also the top deck for those who love sunbathing. Please come to the cruise's bar for relaxation, entertainment as well as for drinks. You can also enjoy delicious Vietnamese dishes prepared by gourmet cuisine at the dinning room.

Services
Reception
Restaurant & bar
Karaoke
Massage & spa (on request)
Service 24/24
Souvenir shop
Clothes shop
Luggage Protection
Customer Care
Tender
Tour guide in English, French, and Vietnamese
Kayak (optional services – at complimentary for 3 days-2 nights)
Fishing (at complimentary)
The cabins
There are several Junks with different number of cabins on boats.
1 Junk boats with 18 cabins
4 Junk boats with 10 cabins each
3 Junk boats with 07 cabins each
3 Junk boats with 06 cabins each
1 Junk boat with 04 cabins
1 Junk boat with 02 cabins

Cabin Facilities:
All Junk boats have double or twin bedded cabins with AC, TV.
Private ensuite bathroom and proper toilet facilities with hot & cold shower.
Cabin size is 10m2.

Dining
The restaurant features an excellent chief preparing fresh local seafood and other specialties for your dinning experience. While dinning guests will be viewing breath-taking picture perfect views of the bay.

Activities

The Sundeck
With its comfortable lounge chairs, fresh breeze and dazzling views, the Sundeck invites guests to lie back and relax. Featuring an impressive range of cocktails and an easy, relaxed ambiance, the Sunset Bar is a delightful place to socialize and watch the sun sink behind the bay's myriad islands.

The BaiTho Bar and Lounge
Located in the Restaurant, this cozy bar features silk chairs, embroidered décor. A wide variety of wines and cocktails is available.

Kayaking
Explore the bay's uninhabited islands and sea caverns in our imported Canadian Seaward kayaks.

Facilities:
Wooden covered Cabin
Wooden Floor
Bay view window
Air conditioner
Slipper
Shower system each cabin
Hot/Cold water served 24/24
Electric fan
Safety system
Fire extinguished
More Halong Bay Cruises
Vietnam Hotels: Hotel84.com offers the choice of over 2500 hotels in Vietnam. Our hotel reviews will help you find the best deal, while you are in Vietnam. Find hotels and book great Vietnam hotel at great prices.