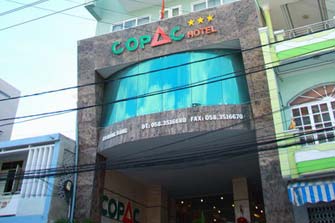 COPAC HOTEL is located on Hong Bang street, 500 metters from Tran Phu Beach street, ideal for all visitors. From Copac Hotel to Nha Trang Railway Station, it takes 8 minutes by taxi and 45 minutes to Camranh Airport.
Copac Hotel presents 59 spacious guestrooms, comfortable accommodation and latest convenience to allure every guest.
We provide the selection of rooms: 20 STANDARDS, 12 SUPERIORS, 24 DELUXE, 3 SUITE where you can see the ocean at sunrise and sunset from the balcony or windows and have a look the whole city.
The rooms are furnished with modern facilities like private balcony & sitting room (for Suite), telephone , satellite TV, air-conditioner, fire alarm system, electricical water heater, safe box, bathtub, standing bathroom, minibar, hair dryer… Moreover, you can enjoy the added luxury of Wifi access in the comfort of your own room.
We have extended this complimentary service for your convenience during holidays.
Copac Hotel is a 3 star hotel that combines Hi-class accommodation and service with dining and meeting facilities.
Whether you're in Nha trang for business or pleasure, you are sure to find what you are looking for at the Hotel.
Rooms

Rates

Hotel Features

Services

Location

Reviews
Rooms
Room rate: 109 USD - Promotion rate: 60 USD
Total of rooms: 3
Room size (m2): 35
Room rate: 79 USD - Promotion rate: 44 USD
Total of rooms: 29 (Twin & Double)
Room size (m2): 24
Room rate: 67 USD - Promotion rate: 38 USD
Total of rooms: 13 (Twin & Double)
Room size (m2): 24
Room rate: 52 USD - Promotion rate: 33 USD
Total of rooms: 14 (Twin & Double)
Room size (m2): 20
Room Feature:
King size beds,
shower,
IDD telephone,
Wifi access,
hair dryer,
safe box,
writing and make – up desk,
minibar,
hot/cold water,
air- conditioner,
satellite LCD TV,
daily coffee and tea,
daily mineral water,
kettle.
Hotel similar
Vietnam Hotels: Hotel84.com offers the choice of over 2500 hotels in Vietnam. Our hotel reviews will help you find the best deal, while you are in Vietnam. Find hotels and book great Vietnam hotel at great prices.