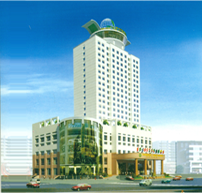 Located in the heart of Mong Cai City, Hotel MAJESTIC-VRG property conveniently located 100 meters from the international border, Tra resort 9 km and near major commercial centers to help you the convenience to immigration activities, shopping and entertainment. With 25 floors of modern architecture, from the hotel you can watch the whole scene covering City and East Hung - China.

VRG Hotel MAJESTIC-class 5-star international is a subtle mix between classic and modern, both subtle mysteries of the East, but still full of handy features to spice western special attraction particularly from architecture to furniture. The system offers luxury accommodation and first-class facilities and bar restaurant chain brings the famous dishes, scrumptious drink made from the top chefs and bartenders. Especially, bar - restaurant is designed to turn spindle at 24 stories will help you observe the whole city center and the area of ??Mong Cai-Dongxing China. Also, MAJESTIC-VRG also provides entertainment services and support to meet all your requirements such as outdoor pool, massage center - spa, karaoke, disco, gym, tennis court and supermarkets ....

The staff professional qualifications, enthusiasm and dedication to service, customer care brought to feel like you are at home make sure you will be satisfied and feel the difference, with MAJESTIC-VRG the other hotel standards. Come with us to experience and enjoy the exciting moments of relaxation!
Rooms

Rates

Hotel Features

Services

Reviews
Rooms
The system consists of 131 guest rooms, comfortable rooms, elegant design and subtle elegance. Open space, providing modern features but still reflect the warmth, intimacy. Rooms are divided into two main directions, towards the city center and the sea. Be divided into 4 types of room area and distinctive style made the richness of choice for you.

Majestic Suite
As the largest room area, spacious 77m2 space is divided into two rooms and separate bedrooms. Rooms are modern designs, luxurious interiors are imported directly from abroad, are fully lined with high-end features wood insects. All rooms are equipped with bath and a bar Jacuzi with the other first-class facilities. Majestic Suite All rooms are towards the city center. The hotel has 09 rooms Majestic Suite

Junior Chamber
50-m2 rooms are designed in oriental architectural style combined with themed interior palace exudes elegance seductive splendor. All rooms are equipped with advanced facilities, restrooms are divided into two spaces filled with convenience. Junior Suite All rooms are towards the city center. The hotel has 09 rooms Junior Suite.

Deluxe
Room size is 32 m2 equipped with the finest amenities and elegant with a king size bed. Interior design themed contemporary art brings romantic atmosphere, colorful. The Deluxe rooms have two views, towards the city center and the sea. The hotel has 32 deluxe rooms.

Superior
Being single room has two twin beds, spacious 36 m2 designed modern, airy space equipped with advanced facilities. The Superior rooms have two views, towards the city center and the sea. The hotel has 81 rooms Superior
Hotel similar
Vietnam Hotels: Hotel84.com offers the choice of over 2500 hotels in Vietnam. Our hotel reviews will help you find the best deal, while you are in Vietnam. Find hotels and book great Vietnam hotel at great prices.