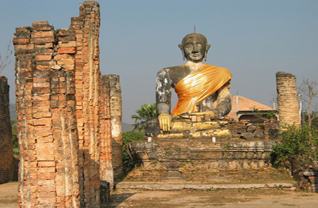 Laos Overview 6Days/5Nights
Duration:
6 days / 5 nights
Day 1. Arrival - Vientiane
Day 2. Vientiane - Vang Vieng (B)
Day 3. Vang Vieng - Xiengkhouang (B/…/…)
Day 4. Xiengkhouang - Lung Prabang (B/…/…)
Day 5. Luang Prabang - Pak Ou Cave- Khouangsi Waterfall - Luang Prabang (B/…/…)
Day 6. Luang Prabang - Departure (B/…/…)

Itinerary

Price & Booking

Reviews
Itinerary
Day 1. Arrival - Vientiane On arrival at Wattay Airport, you will be met and transferred to your centrally located hotel. Vientiane is a charming and fascinating capital, with an interesting mix of Lao, Thai, Chinese, Vietnamese, French, Soviet and American influences. A city tour acquaints us with the capital and after a short rest, we start visiting the major sights; including the oldest Wat Sisaket, the temple with thousands of miniature Buddha statues and the former royal temple of Wat Prakeo, which previously housed the famous Emerald Buddha Image. Enroute to Lao's national precious heritage, the famous and sacred structure of That Luang Stupa, you will have the opportunity to take some pictures of the imposing Patuxay Monument, which is well known as Vientiane's own Arc de Triumph. Overnight in Vientiane
Day 2. Vientiane - Vang Vieng (B/…/…) We leave this wonderful town after breakfast for our journey northbound on route no. 13. We will see some breathtaking scenery enroute as we pass through spectacular countryside towards the mountainous region. We make a stop along the way at Vang Xang, a famous archeological site dating back to the 11th century. We reach our final destination in the afternoon, the small and tranquil village of Vang Vieng, which is nestled on a bend of the Nam Song River. Its stunning scenery with a mixture of quiet water and limestone outcrops remains unspoiled, despite recent developments with the advent of tourism. On arrival at Vang Vieng, we cross the Nam Song River to Tham Jang caves and then enjoy a short trek through breathtaking mountain landscape to explore the Tam None Cave and some hill villages. Today ends with a superb panorama of the sunset reflecting over the Nam Song River. Overnight in Vang Vieng
Day 3. Vang Vieng - Xiengkhouang (B/…/…) Today we will set off early driving up route 13TH north to Xiengkhouang, an area once devastated by American bombings between 1964 and 1973. These back roads are a great way to explore the real Laos. We see very few other travelers, mostly rural dwellers who are just as interested in finding out about our lives as we are of theirs. The drive is very long, but we can make many stops at our pleasure, to stretch our legs and take some wonderful photographs. We arrive in the afternoon, we then visit the "Plan of Jars" is an impressive archaeological site where hundreds of large stone jars are scattered all over a plateau. These huge jars are supposedly over 2,000 years old, but most of archaeologists still question their purpose. We have time today to explore the site and some nearby villages, populated by the Hmong hill tribe and Tai Dam people; they are very poor but possess a vibrant local culture and an interesting history.Overnight in Xiengkhuang
Day 4. Xiengkhouang - Lung Prabang (B/…/…) After breakfast at hotel, we drive to Luang Prabang, which is perhaps the best-preserved traditional city in Southeast Asia. The roads are well paved along the way for a smooth journey; we pass some stunning landscape scenery with a mixture of steep terraced fields and hill villages, we take a few photo stops at some small hill tribe village enroute. Each hill tribe village in Laos has a different feel, some are more prosperous than others but all have plenty of life. The Muang Xieng Nguen village is our next stop and we spend a short amount of time observing the local lifestyle prior to reaching Luang Prabang. On arrival in Luang Prabang, we have enough time to explore some landmarks, including the impressive stupa of Wat Visoun, the shrine of Wat Aham, the city's oldest temple of Wat Sene and the Wat Mai with five tiered roofs. A visit to Luang Prabang would be incomplete with ascending 329 steps to the top of Phousi Hill for a beautiful sunset view of the city and its glowing reflection on the Mekong River. The zigzag path crosses over various temples to the sacred, gilded stupa of Wat Phou, another World Heritage Site, recognized by UNESCO in 2002. In the evening, we explore the Night Market, where you can find a lovely selection of souvenirs and handmade textile made by local and hill tribe people surrounding Luang Prabang.
Day 5. Luang Prabang - Pak Ou Cave- Khouangsi Waterfall - Luang Prabang (B/…/…) Breakfast at hotel, today, we visit the magnificent Wat Xieng Thong where you can see the impressive "tree of life" mosaic pattern set in coloured glass. Its exterior architecture is remarkable with its roofs sweeping low to the ground, representing classical Laotian architecture. We then embark on a cruise upstream on the Mekong River, giving us a beautiful view of the tranquil countryside. We take an interesting visit to the mysterious Pak Ou Caves, which are two linked caves crammed with thousands of gold lacquered Buddha statues of various shapes and sizes left by pilgrims. Along the way, we stop at the village of Ban Xang Hai.
In the afternoon, you will visit local villages of Lao ethnic minority groups at Ban Ouay, Hmong Hill tribe, Ban Ou, Lowland Lao and Ban Thapene of Khmu village. After we head towards the beautiful Khouangsi Waterfall where you can take a dip in the large turquoise pools or walk along the forest paths. We return to Luang Prabang by late evening for observing the sunset at Wat Siphouthabath. Overnight in Luang Prabang
Day 6. Luang Prabang - Departure (B/…/…) An optional early start gives you the fantastic opportunity to participate in the daily morning rituals of saffron-clad monks collecting offerings of Alms (ubiquitous sticky rice) from the faithful residents. This tradition is very unique in Laos, being the only Buddhist nation still preserving the procession. This is a real highlight of the tour prior to saying goodbye to this charming city.
Following breakfast, we visit The National Museum (close Tuesday) at the former Royal Palace, which displays a lovely collection of the artifacts reflecting the richness of Lao culture dating from the days of the early kings right through to the last sovereign. After we visit the silver smith's and Fine Arts School and the Central Market, which is not to be missed. We then say farewell and depart this ancient city.
More tours
Vietnam Hotels: Hotel84.com offers the choice of over 2500 hotels in Vietnam. Our hotel reviews will help you find the best deal, while you are in Vietnam. Find hotels and book great Vietnam hotel at great prices.