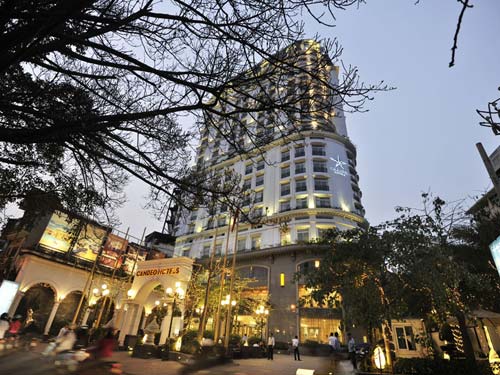 CANDLE Hotels is one of the projects of the Group 's meaning , was constructed in 2007 with a total investment of more than 40 million dollars , CANDLE Hotels has confirmed standard hotels and first-class service quality to .

The unique feature of neoclassical architecture , the subtle contours , in a new collaboration has contributed to creating a luxurious space architecture , world-class polite International still deeply imbued East Asia .
Scale of project

Works CANDLE Hotels are hotels of international standard , built on land area : 2157.4 m2. Total floor area is 19626.3 m2 , with a height of 19 floors and 2 basements , is one of the projects with the most visibility in Ba Dinh District
Address: 287-301 Doi Can , Ba Dinh , Ha Noi

Hotels and apartments are mixed service area with many diverse functions , the building will create a living environment and modern workspace , the value contribution of urban space and architecture to improve lives socio - cultural - social .

The main area of the building is designed to interact with the help of green space for most functional areas are in harmony with nature, creating airy feeling comfortable with the external environment .
Rooms

Rates

Hotel Features

Services

Location

Reviews
Rooms
HOTEL UNIT
With a total of 124 beds, the hotel rooms located from the 4th floor to the 7th floor are spacious, airy, and equipped with fully-imported luxurious furniture. Each hotel floor has 6 rooms equipped kitchens, very convenient for self-service.
On each floor, there are spacious and airy common lobby as well as a Business Center where people can access the Internet, communicate and meet friends.
APARTMENT UNIT
The Apartment Area comprises of 70 high-end apartments, arranged from 8th floor to T floor. With the property area ranging from 59m2 to 124m2 per apartment, the interior is modernly designed with high-quality utility and luxurious living space.
The living room is designed with many windows to be in harmony with the surrounding space, filling the room with sunlight and providing fresh air to its residents.
Hotel similar
Vietnam Hotels: Hotel84.com offers the choice of over 2500 hotels in Vietnam. Our hotel reviews will help you find the best deal, while you are in Vietnam. Find hotels and book great Vietnam hotel at great prices.