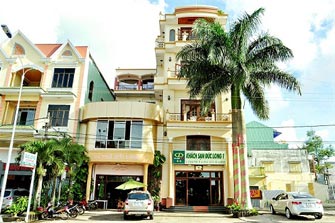 Located in the heart of the mountain town of Pleiku and poetic tranquility of the Central Highlands plateau - where harmony between earth and sky, Hotels (2 stars) - Café Restaurant Duc Long Gia Lai 1 is endowed with all the scenes as well as the geographical location: Located at an altitude of 500 meters above sea level, mild climate, convenient transportation with road and aviation, food imbued with national identity Highlands .....

With more than 38 the number of guest rooms (including room type Suite, Deluxe, Superior, Standard.) Are fully equipped (LCD TV, air conditioning, hot and cold water systems shower, mini bar, WiFi connectivity ultra-fast internet ...) ample space for parking is completely free, airy rooms, with staff always attentive, enthusiastic gives you a comfortable stay as 1 am in his own house. So Duc Long Gia Lai Hotel 1 will be the first choice for you when it comes to Pleiku dreams.

Rooms

Rates

Hotel Features

Services

Reviews
Rooms
Deluxe Twin
Deluxe Double
Superior Double
Quad
Standard Double
Standard twin
Hotel similar
Vietnam Hotels: Hotel84.com offers the choice of over 2500 hotels in Vietnam. Our hotel reviews will help you find the best deal, while you are in Vietnam. Find hotels and book great Vietnam hotel at great prices.