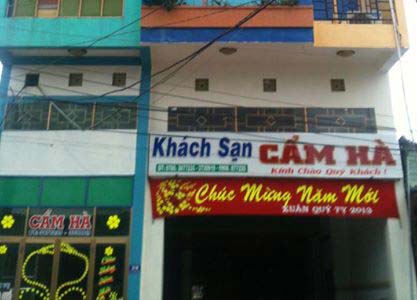 Last sky country land has long been going on singing a sincere and simple. Perhaps by drawing rustic, green and somewhat untouched by man and nature here that Ca Mau has become a name that attracts many tourists in and outside the province. Recently, the form of eco-tourism development has started in some districts in the province of Ca Mau. Tourists come here to be witnessing the scene of labor and simple living of the local people and enjoy the rustic dishes that are hard to forget. But what many people consider when traveling is the need to rest and food. certainly after the promenade is full of surprises and exciting, tourists still needed a place convenient for maintaining good health to continue the journey to discover more useful things ... hotel Cam Ha an address which you need to pay attention.
Centrally located in the district of Nam, bridge tourist attractions such as tourism Khai Long Beach, Ca Mau ... landmark, hotel Cam Ha is typical ideal for travelers in the his trip. With uptime nearly 9 nă, Cam Ha hotel has created much prestige among tourists, while constantly building and scaling to improve the quality of service for a total of up to 32 rooms rooms, including two vIP rooms, courteous decorated, comfortable and airy. Specifically for tourists away, we have added a shuttle service at the airport or special airfare, high-speed trains for visitors. To ensure that you get the dedicated service and the most thoughtful, you need to visit and tour the hotel will be served to hire canoes and supports further information about tourism. In particular, there is a unique model of swift adoption, new, needs to visit or buy your raw oats ...!
Hotels Cam Ha respectfully welcome !!!
Rooms

Rates

Hotel Features

Services

Location

Reviews
Hotel similar
Vietnam Hotels: Hotel84.com offers the choice of over 2500 hotels in Vietnam. Our hotel reviews will help you find the best deal, while you are in Vietnam. Find hotels and book great Vietnam hotel at great prices.